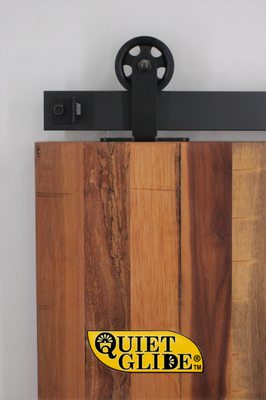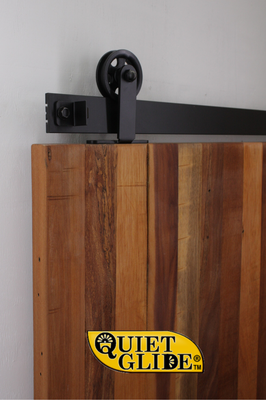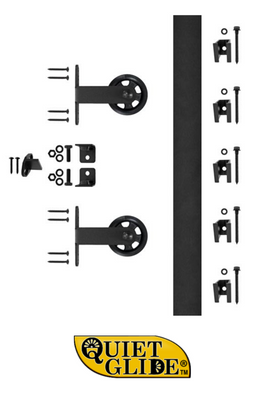 Quiet Glide Top Mount Barn Door Hardware Kit
Quiet Glide
$393.00
or 4 interest free payments of $98.25 with
learn more
The Quiet Glide Barn Door hardware range is an Original barn door design made in the USA!
Quiet Glide range is of a superior quality so it has a Lifetime Warranty.
We have full sets in 6' (1828mm), 7' (2133mm) and 8' (2438mm) tracks and, 3' (914mm) and 4' (1219mm) tracks are available with a joiner clip in order to create the track length you need. The tracks are solid aluminum and powder-coated matt black. One of the great things about this system is the joiner clip fits behind the tracks so you only see a small line when the tracks join. The track does not come with any fixing points so this can be customized to suit the studs in your wall.
The Quiet Glide range has a minimal contact surface area between the flat rail and the Delrin (high-density acetal resin) wheel which makes for extra quiet operation. The wheel measures: 3"/76mm with an overall height of 135mm; from the top of the door to the top of the strap it is 135mm. The hardware safely supports a maximum recommended weight of 115kgs and with a maximum clearance of 44mm, including door and architrave/skirting. If you require more clearance you can fix the track on to a header board to suit.

The set Includes:
Track as per requirement
Mounting Brackets to suit the track length
Stopper - a pair
Floor Guide
All bolts and screws
If you require 3', 4' tracks or multi-piece tracks to achieve a longer length track, please send us an email for a personalized quote: orders@visualhardware.co.nz
SKU: QGTMHSTBLK7