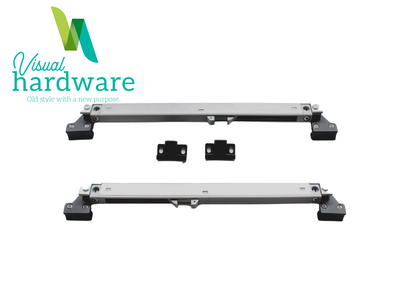 Heavy Duty Soft Close System For Flat Track
Classic Range
$75.00
or 4 interest free payments of $18.75 with
learn more
Adding a soft close system to your barn door hardware set makes your barn door system sleeker. Hidden from view, this system ensures a quieter and safer operation of your barn door by automatically slowing the opening and closing action, to ensure that your barn door does not bang or bounce when pushed open/closed. It means that it is possible to just push the door and walk away rather than having to place the door open or closed.
We would recommend a soft close system should you door be used frequently. It is perfect for homes with children, elderly, or those who want ease of use.
The triggers are fixed on the top of the door which hits the spring loaded system. Comes with a left and right bracket, If you are not sure or have any questions please send us an email at orders@visualhardware.co.nz
The heavy duty soft close system is suitable for all our flat track systems. Use the Heavy Duty soft close system with our standard flat track range if your door is in the upper limits of the weight rating or you are expecting the system would need more durability than a regular system, like in a commercial heavy use door.. The difference between the Heavy Duty Soft close system versus or standard flat track soft close system is it is made to be more robust to cope with extra strain use for systems which are outside a typical door set up. It also can clamp to the bottom of the track so you have the option to move it if required.
SKU: HDSSFTBLK