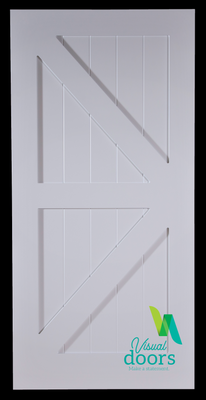 Kitchen White British Brace Barn Door (12 Sizes)
Finished Doors
$520.00
or 4 interest free payments of $130.00 with
learn more
Our Kitchen White British Brace Barn Doors are available in 8 sizes. These doors are an excellent choice should you need a door that is finished ready to hang.
The finish on these doors is a hard lacquer paint making it very easy to wipe down and keep clean.
The British Brace design is on both sides of the door so you are able to flip the door to get the "Arrow" facing the direction you prefer. They also have a groove in base for a door guide.
2200mm heights are changing - Please note we are in the process of amending our 2200mm door heights to 2270mm high. The reason for this is to better suit a 2200mm door opening height with standard architrave. Once we have worked through our current stock at 2200mm high, we will no longer stock 2200mm high doors. These will be replaced with 2270mm. Please contact us if you have any questions.
Barn Door Specifications

Material
MDF
Style
British Brace
Finishes
Alabaster Kitchen White
Purpose
Internal Use Only, Not suitable for Wet Areas
Barn Door Sizes

Height
Width
Thickness
Price


2050
600
40
$520
2050
700
40
$540
2050
800
40
$580
2050
850
40
$595
2050
900
40
$615
2200
900
40
$650
2270
900
40
$650
2050
1000
40
$660
2270
1000
40
$700
2050
1200
40
$745
*2050
1500
40
$1670
2200
1200
40
$790
2270
1200
40
$790
Hardware sold separately.
You can select to pick up in St Johns, Auckland.
Please note regarding Door Delivery: We are unable to deliver doors to all areas. Majority of the time we are able to deliver "single doors" to your house, as long as it is not in a rural delivery area. You need to ensure someone is home for delivery to help the driver lift the door. Otherwise we can deliver to the closest Mainfreight depot where you are able to pick up. If you are unsure or have any questions, please send us an email with your address and we will get back to you.
*Contact us if requiring this size as we may have limited availability. Due to the size of this door it is PICK UP only.
SKU: WD20506BB